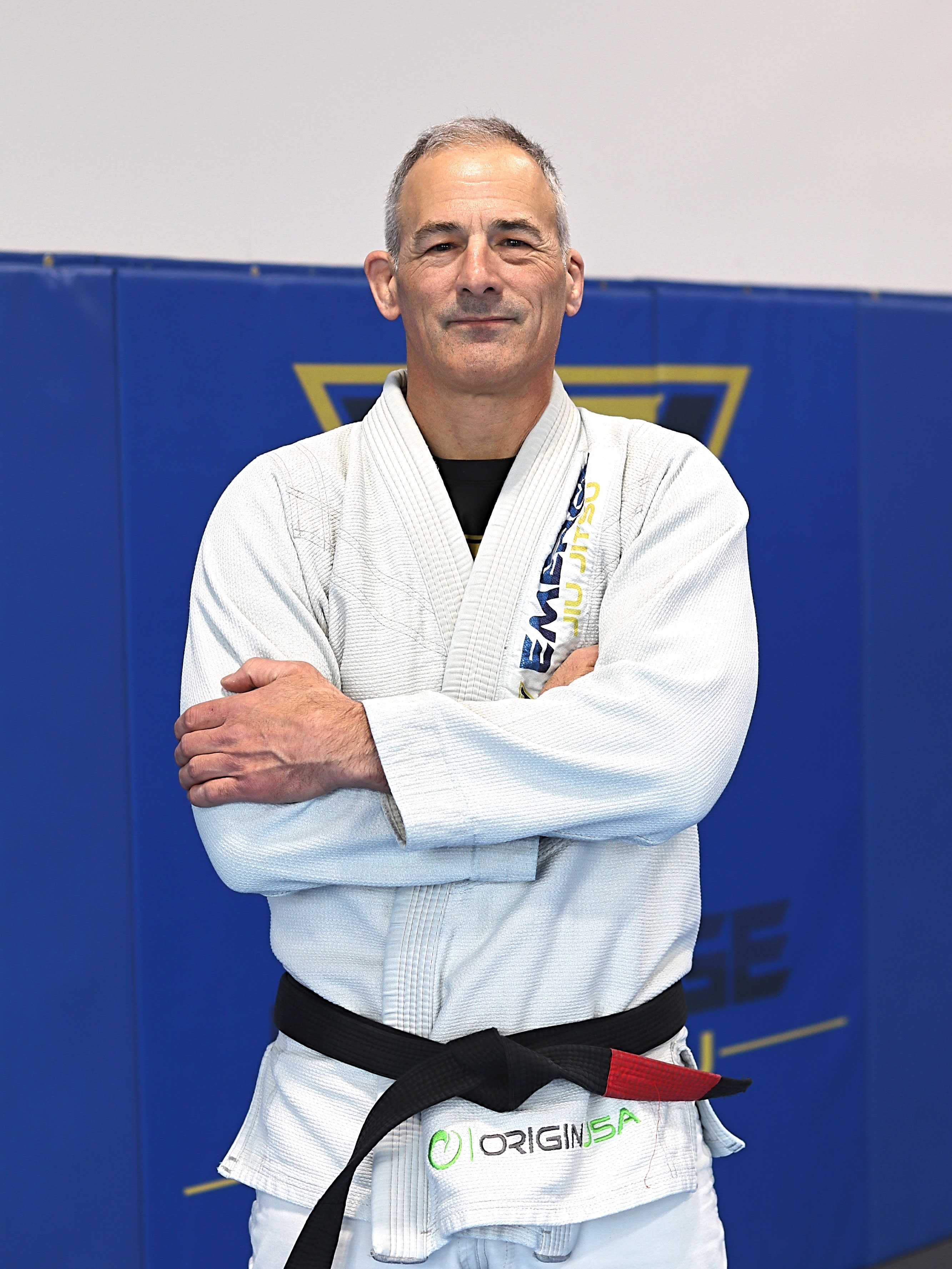 Don Cooper
Don Cooper has been training in Brazilian Jiu Jitsu for the last 13 years. Don was awarded the black belt while training under Jeremiah Rodeman and Jeff Stine (Joe Moreira/Roy Harris black belt). Don continues his learning under Jeremiah Rodeman and Andre Alamao of the Carlson Gracie Team. Don has trained under different professors over the years which have included Marcel Louzado, Jason Manly (Ceasar Gracie black belt) , Leandro Viera (Checkmat), Luiz Pedro (Checkmat), Renato Magno (Rigan Machado blackbelt), and Bruce Elliot (Renato Magno black belt). Don trained at Reign Training Center in Lake Forest, CA, and Team Quest in Gresham, OR.
Don went 1-1 at the 2023 IBJJF Masters Worlds Championship competing in the master 6 black belt division. Don continues to compete in tournaments to improve himself, test his skills, and help encourage the Emerge team. Don intends to compete in competitions as long as he can and one day capture the gold medal at the Masters World Championships.
"I have been really blessed to be able to learn and train with a variety of amazing people with different talents and styles. Each one of my professors has had an incredible influence in my life to which I am truly grateful." - Don Cooper

Don is a former wrestler, gymnast and triathlete. In addition to BJJ, Don's other active passion is mountain biking.

He has practiced different forms of self-defense and martial arts since he was a child, including wrestling for eight years and Shotikan Karate for three years. He is a former high school gymnast and was a walk-on team member for the University of New Mexico's men's team.He is also a certified NRA pistol instructor. Don served in the Navy for seven years as a nuclear power submarine officer doing multiple strategic deterrent patrols on the USS George C. Marshal (SSBN 654/blue-crew).

Don believes that Jiu Jitsu is a great sport for all people because of the lessons you learn that apply to all areas of life inside and outside the gym. He understands that Jiu Jitsu is great for the body, mind and soul. Don also believes that jiu jitsu is especially beneficial to kids who need to be active in a positive way and can enjoy the martial art while developing strong character and a noble spirit.

Don is a Christian with firm convictions that we are to love God and love our neighbors as ourselves. Don sees that the parallels of jiu jitsu to spiritual life are amazing.

Don has been married to his amazing wife Jennifer (Owner of Emerge and a purple belt in BJJ) for 34 years and they have six children together.